Adorable Purebred Dachshund Wants To Snuggle With You Forever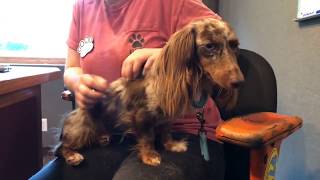 This is Sophie, she's a 3yr old long-haired Dachshund who is looking for a new home after being rescued from a breeder. To adopt her, you'll have to visit Noah's Ark Animal Sanctuary at 111 N. First St. in downtown Rockford, IL.
If you're new, Subscribe! → https://bit.ly/1tIfLfE
Go here → http://97zokonline.com/
Like us → https://www.facebook.com/97ZOK
Follow us → https://twitter.com/97zok
Get our newsletter → http://www.97zokonline.com/newsletter
For any licensing requests, please contact rockford.youtube@townsquaremedia.com.