Adorable Saussage Dogs Doing Funny Things! Funny Dogs!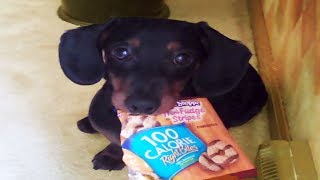 Submit Your Videos – http://bit.ly/Send2_Sparkle_Pets
Dachshunds Are Awesome! Funny & Cute Sausage Dogs! The best of funny moments with cuttest sausage dogs. They will make you smile all day.
I hope you have fun with it. Please LIKE, SHARE and SUBSCRICE if you Like This Video!
Please let me know what the next type of videos is you would like to see.
I'd love to have your furry friend on my channel. Please contact me at mysparklepets@gmail.com
Video credits:
00:08 Carlos Pineiro – Dachshund LOVES 'I Love You's wiener dog love – https://youtu.be/RUIpw5ysVR4
01:27 WAMQF4 – Dog, Pool, and Hose – WAMQF4 – Dog, Pool, and Hose – https://youtu.be/97NPGxsEJCI
02:28 Kap Industries – Sausage dog in boots! – https://youtu.be/1xmQ1qeO5aQ
03:07 vincent ryan – Russell swimming dachshund – https://youtu.be/VihEnkhxTVQ
03:19 kelly r – Dachshund says I love you – https://youtu.be/tWuQOVvp7VE
04:00 Miki Mash – Fail jump sausage dog – https://youtu.be/CqNIx_gz3RM
04:33 fortestingonly1 – Dachshund puppy stealin mama's snack – https://youtu.be/NKECjt9IzJw
05:39 Valent – My dachshund learns to swim – https://youtu.be/LQZBDDZnatU
06:00 WAMQF4 – Dachshund VS Garden Hose – https://youtu.be/MufLel6wqnM
07:12 Valent – Dachshund puppy tries to get through the gate – https://youtu.be/pWJGkyFPa2I
07:34 Vicky lomax – gladys the sausage dog winking, sleeping then CHEEEEESE – https://youtu.be/9wtJto-5MqU
08:41 Valent – My dachshund shakes hand! – https://youtu.be/0Wxe6YG6Euc
08:49 Aruna Badal – Jesse the miniature dachshund puppy grumbling – https://youtu.be/LNfmKvscKdc
09:38 Joel Sánchez Arias – Cavalier king charles vs teckel dachshund – https://youtu.be/WgD9IFnR_1E
Adorable Saussage Dogs Doing Funny Things! Funny Dogs! – https://youtu.be/AJvzrEH69dk